Antioch University is committed to creating and sustaining a workforce of highly qualified and motivated faculty and staff who are all dedicated to achieving the charitable and educational mission of the university.
The university proactively embraces best practices and workforce diversity and is committed to providing a positive, discrimination-free environment in which to work and one that encourages its employees to balance work and personal commitments. Antioch University is founded on principles of rigorous liberal arts education, innovative experiential learning and socially engaged citizenship. Employees share in the mission of the campus to nurture students in their knowledge, skills and habits of reflection to excel as lifelong learners, democratic leaders and global citizens who live lives of meaning and purpose.
Antioch University provides equal opportunity for all qualified applicants and does not discriminate on the basis of race, color, gender, ancestry, religion, national origin, sexual orientation, family status, or disability in matters affecting employment or in providing access to programs.
We look forward to receiving your application!
Employers of National Service
The Corporation for National and Comm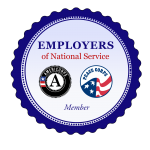 unity Service, which administers AmeriCorps, and its partners — Peace Corps, AmeriCorps Alums, National Peace Corps Association, and The Franklin Project — have launched Employers of National Service (EONS) to better connect national service alumni with opportunities in the workforce. Antioch University is proud to be an EONS partner and welcomes applications from service alumni.
Currently open positions: