Counsel others to cope with life's challenges.
Antioch's CACREP-accredited Master's in Counseling program accepts students from all undergraduate degrees looking to learn how to make a positive impact on those who need help the most. The program prepares you to work as a professional counselor to promote mental health, well-being and social justice for a diverse, multicultural and global community.
---
Program Overview
The Online delivery of our Clinical Mental Health Counseling includes online courses, an intensive face-to-face clinical learning (either virtual or in person), and experiential learning in fieldwork focused on the development of your professional identity. Our faculty encourages an active, thorough, and continued examination of your development in the role of a professional counselor.
This CACREP-accredited counselor education program, with a specialty area in clinical mental health counseling, trains students in eight (8) core areas: professional counseling orientation and ethical practice, social and cultural diversity, human growth and development, career development, counseling and helping relationships, group counseling and group work, assessment and testing, and research and program evaluation.
This Clinical Mental Health Counseling (CMHC) program is offered at Antioch University New England (AUNE) in Keene, NH. The CMHC Program is offered in two deliveries: online with two-week-long intensive residencies, and weekend low-residency with classes at the Keene, NH campus.
Ranked in the Top 20 for Counseling Programs

-BestValueSchools.com
Mission of the CMHC Program
The Clinical Mental Health Counseling (CMHC) Program promotes the development of professional identity by encouraging an active and continuous examination of one's self as an individual, one's self as a professional counselor, and one's self as a social justice advocate. The program is devoted to training students from diverse backgrounds, endorsing the principles of social justice by confronting oppression and injustice, and working with underserved populations. Students are prepared, as professional counselors, to work with individuals, groups, and social systems within a multicultural global community to promote mental health and well-being for all.
Degree Requirements
Program Length:
The CMHC Program is designed to be a full-time program, with students entering in the spring, summer, or fall semester. The CMHC Program typically takes students three to three and half (3-3.5) years to complete if attending full time. Students who desire a part-time student status can anticipate approximately four to five (4-5) years to complete the program. You should expect to spend approximately nine hours per week on each course, in addition to 20 hours a week onsite at a clinical setting in your area when your practicum and internships begin. Students must pass a candidacy review before being authorized to begin practicum. We encourage you to plan your life carefully to accommodate the increased investment of time and energy in your professional education.
Requirements:
The online counseling degree consists of
Intensive face-to-face clinical learning (either virtual or in person)

Core Courses (13 courses @ 3 credits = 39 credits)

Practicum & Internships (4 semesters @ 3 credits = 12 credits; Practicum min.100 hrs; Internship 900 hrs)

Electives (Choose 3 courses @ 3 credits = 9 credits)
Required Courses
COUN 6030 Group Counseling (3 credits)
COUN 5902 Foundational Counseling Skills (3 credits)
COUN 6032 Professional Orientation & Ethics (3 credits)
COUN 5142 Assessment and Testing (3 credits)
COUN 5542 Counseling Theories (3 credits)
COUN 6122 Addictions Counseling (3 credits)
COUN 5262 Human Growth and Development (3 credits)
COUN 6062 Social and Cultural Diversity (3 credits)
COUN 6422 Couple and Family Counseling (3 credits)
COUN 5502 Diagnosis and Treatment (3 credits)
COUN 5222 Career Counseling Development (3 credits)
COUN 6902 Research and Evaluation in Counseling (3 credits)
COUN 6752 Crisis Counseling Interventions (3 credits)
COUN 6960 Practicum – total of 100 hours (3 credits)
COUN 6990 Internship – total of 900 hours over 3 semesters or 9 credits total (3 credits each)
Elective Courses (3 courses are required)
Addictions Electives (If take all 3 electives in addictions qualify for Addictions Concentration)
COUN 6662 Family Counseling Approaches to Addictions (3 credits)
COUN 5632 Psychopharmacology (3 credits)
COUN 6262 Integrative Approaches to Addictions Counseling (3 credits)
COUN 6132 Process Addictions (3 credits)
COUN 6142 Social Justice and Advocacy in Addictions Counseling (3 credits)
Trauma Electives (If take all 3 electives in trauma, qualify for Trauma Certificate)
COUN 5332 Trauma and Resiliency (3 credits)
COUN 6102 Creative Approaches to Trauma-Informed Practice (3 credits)
COUN 5322 Counseling Approaches to Trauma, Grief, and Loss (3 credits)
Miscellaneous Electives
COUN 6522 Adventure-Based Counseling (3 credits)
COUN 5182 Human Sexuality (3 credits)
COUN 6802 Counseling Military Personnel and Families (3 credits)
Program Total: Credits 60
Practicum and Internships
Practicum introduces you to work in the field with a minimum of 100 hours of service at a clinical site, including a minimum of 40 hours working directly with clients. You learn the policy of the agency and the roles of the mental health counselor. You spend approximately 7 to 10 hours a week in practicum for at least one semester. Before beginning, practicum students must pass a candidacy review assessing their readiness to begin supervised fieldwork.
Following practicum, there are three internship semesters. These may continue at the same site as the practicum or take place at a new site. You spend approximately 20 hours a week at your clinical site and provide approximately 300 hours of service each semester, with a minimum of 120 hours of direct service to clients during each of these internship semesters. State requirements for pre-degree internship hours vary. Review your state requirements for more information.
There are many possible positions at community agencies, residential facilities, college counseling centers, and city/state social service agencies. The Clinical Director and the Practicum and Internship Coordinator will assist you in the process of matching your interests with potential sites in the community. Students are responsible for securing their own internship and for transportation to and from the site.
Career Outlook
The Bureau of Labor Statistics projects a strong need for mental health counselors. Counseling is projected as one of the faster growing mental health professions — increasing over the next 7-10 years.
Graduates of the CMHC Program will have the knowledge, skills, and attitudes required to function as a professional clinical mental health counselor. They will be prepared for employment in a variety of settings and able to meet certification and licensure standards as mental health counselors, through education in a CACREP accredited program.
Program Objectives (also referred to as Learning Outcomes)
Ethical Practice: Students will demonstrate principles and standards of professional ethics in counseling and ethical decision-making informed by social justice.
Social And Cultural Diversity: Identify strategies needed to address institutional and social barriers that impede access, equity, well-being, and success for clients.
Human Growth and Development: Students will demonstrate knowledge of lifespan development and the capacity to integrate knowledge of developmental theory into practice.
Career Development: Identify career development strategies that incorporate a focus on social justice and advocacy.
Counseling and Helping Relationships: Demonstrate an understanding of theories of counseling and development of case conceptualizations and treatment plans that are underpinned by social justice
Group Counseling and Group Work: Integrate into their practice of MHC the awareness of the influence of social and cultural contexts on groups
Assessment and Testing: Students will demonstrate a broad understanding of different types of assessments, the selection and use of assessment tools, client assessment and diagnosis, trauma assessment, and the assessment of self-inflicted harm and danger to others.
Research and Program Evaluation: Demonstrate and apply their professional identity as a clinical mental health counselor through an individual philosophy of practice grounded in critical analysis and research and interpretation.
Clinical Mental Health Counseling Specialty Area: Clinical Mental Health Counseling students will demonstrate an understanding of foundational knowledge, demonstration of competence in clinical mental health practice, knowledge of social justice issues, and a focus on wellness.
Professional Dispositions: From admission through exit, students will demonstrate the attitudes, characteristics, and behaviors defined by the program as characteristic of exemplar counseling professionals.
Admissions
The CMHC program values diversity and encourages students of all backgrounds to apply for admission to the program. The faculty strive to create and support an inclusive learning community that meets the different learning styles of students admitted to the program. Students are encouraged to foster relationships with their peers through class discussions and small group activities.
Deadlines
Program
Term
Deadline
MA in Clinical Mental Health Counseling
(Low-Res/Online)
Summer
April 1
Fall
July 15
Spring
December 1
MA in Clinical Mental Health Counseling
(Low-Res/On-Campus)
Fall
July 15
How to Apply
Complete the online admissions application, including:

Essay questions-

We are curious about your previous experiences (e.g., personal, professional, and academic) and would like to know how these experiences have led you toward the choice to apply to the Clinical Mental Health Counseling Program at Antioch University. Please describe a few of those fundamental experiences.
The Clinical Mental Health Counseling Program is both academically and emotionally rigorous. What challenges, if any, do you foresee encountering during your studies? What forms of support will you use to meet those challenges?
Antioch University and the Clinical Mental Health Counseling Program are committed to preparing professional counselors to be culturally competent and become advocates for social, economic, environmental, and racial justice. How does social justice and becoming culturally competent align with your interest in becoming a professional counselor?
What are your professional goals in relation to the Clinical Mental Health Counseling Program and how will this program specifically help you to reach those goals?

Resume/curriculum vitae (CV)
Non-refundable $50 application fee

Submit official transcripts from all colleges or universities where you earned a degree or certificate (A cumulative GPA of 3.0 or higher is preferred)

email transcripts to 

[email protected]

, or
mail to:Office of AdmissionsAntioch University New England40 Avon StreetKeene NH 04341-3516

Two letters of recommendation are required, from people who are in a position to evaluate your professional (e.g., supervisor, colleague) or academic (e.g., faculty) work. The person making the recommendation may not be related to you.
There are additional requirements for International applicants and applicants without a Bachelor's degree
Interview with the CMHC Program admissions committee, if selected. This interview will be conducted via Zoom (video conferencing).
Master's and Certificate Programs do not require the GRE or any other standardized test for admissions. We consider all of your application materials, and evaluate your academic potential in a variety of ways.
If you do not feel as if your academic transcript(s) reflect your current ability to be successful as a graduate student, please be sure to highlight a plan for being successful in this program.
There is no application fee to apply to our online program.
Cost & Aid
Cost
Department/Program Name
Tuition Cost per Credit
Total Program Credits
CLINICAL MENTAL HEALTH COUNSELING
Degrees:
Clinical Mental Health Counseling, MA
*with careful course selection a certificate in Trauma Counseling OR Addictions counseling is possible within the CMHC degree requirements
$916
60
Clinical Mental Health Counseling, MA (Online)
*with careful course selection a certificate in Trauma Counseling OR Addictions counseling is possible within the CMHC degree requirements
$757
60
Art Therapy and Clinical Mental Health Counseling, MA
(online) *additional certificates not available with this degree
$757
66
Certificates (if pursued as an independent credential):
Certificate in Clinical Mental Health Counseling, Addictions Counseling
$754
12
Certificate in Clinical Mental Health Counseling, Trauma Counseling
$754
9
Clinical Mental Health Counseling, Post-Master's Respecialization Certificate
$754
Variable (9-15)
MA in School Counseling
$757
60
Certificate in School Counseling
$754
18
Financial Aid
A college education is an investment in your future. Let us help you understand the costs and explore the resources available to help make your college education even more affordable. The majority of Antioch students finance their education through some form of financial aid. You may not be sure which federal, state, public, and private aid packages – such as loans, scholarships, and grants – are right for you. Our staff is here to help you, so you can focus on what's most important: beginning your academic program at Antioch.
Licensure Information
Graduates of the CMHC Program may apply for professional credentials recognizing their level of training and experience. Credentials may be granted by national professional boards/organizations or by state regulatory boards.
The CMHC Program recognizes the importance of licensure and certification for professional practice. The legislature in each state establishes the criteria for licensure and an appointed board determines if an individual's education and experience meet their standards. The AP Department has designed its programs to be consistent with the standards of the representative professional organizations. Individual states, many of which base their legislation on professional organization's standards, vary as to specific coursework, number of hours of supervised practice, supervisor qualification, and other required criteria. While the department offers coursework and internships that allow students to put together a licensable portfolio, it cannot guarantee licensure. Students with any negative results on a criminal background check should inquire with the state board in advance to determine if the results of their background will hinder their ability to become licensed in their state.
As graduates of a CACREP accredited program, students are eligible to obtain full certification as a National Certified Counselor (NCC) upon graduation after passing the National Counselor Exam offered in April of their final year and completing the required applications. See the NBCC website for information on this process. Graduates self-reported pass rate on the NBCC exam is 80%.
Students will learn about the steps to licensure for the state in which they plan to pursue licensure in the Professional Orientation and Ethics course, however, students are responsible for knowing the expectations of the state in which they plan to apply. Students should actively consult their state's counseling board for the most recent information about professional licensure. Faculty are available to consult with students and the following websites are helpful when navigating the licensure process:
National Board of Certified Counselors
American Counseling Association
American Mental Health Counseling Association
American Association of State Counseling Boards
To locate contact information, available licenses, and required examinations per State, visit the NBCC's State Board Directory: http://www.nbcc.org/Search/StateBoardDirectory
For information on individual state requirements, see the NBCC State Licensure page
Accreditation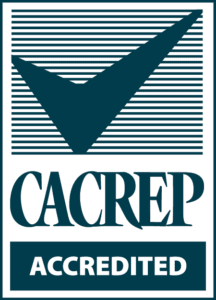 2019-2020 CMHC Annual Program Review