Counsel others to cope with life's challenges.
According to the American Counseling Association (ACA) professional counseling is a professional relationship that empowers diverse individuals, families, and groups to accomplish mental health, wellness, education, and career goals (ACA, 2018). Students who are preparing to specialize as clinical mental health counselors will demonstrate the knowledge and skills necessary to address a wide variety of circumstances within the context of clinical mental health counseling.
This degree is offered by AU New England
---
Program Overview
This CACREP-accredited counselor education program, with a specialty area in clinical mental health counseling, trains students in eight (8) core areas: professional counseling orientation and ethical practice, social and cultural diversity, human growth and development, career development, counseling, and helping relationships, group counseling and group work, assessment and testing, and research and program evaluation.
The Clinical Mental Health Counseling (CMHC) Department is part of Antioch University New England (AUNE) in Keene, NH. The CMHC Program is offered in two deliveries: Online with two-week-long intensive residencies and Weekend Low-Residency (in Keene, NH).
Mission of the CMHC Program
The Clinical Mental Health Counseling (CMHC) Program promotes the development of professional identity by encouraging an active and continuous examination of one's self as an individual, one's self as a professional counselor, and one's self as a social justice advocate. The program is devoted to training students from diverse backgrounds, endorsing the principles of social justice by confronting oppression and injustice, and working with underserved populations. Students are prepared, as professional counselors, to work with individuals, groups, and social systems within a multicultural global community to promote mental health and well-being for all.
Degree Requirements
Program Length
The CMHC Program is designed to be a full-time program, with students entering in the fall or spring semesters. The CMHC Program typically takes students three to three and half (3-3.5) years to complete if attending full-time. Students who desire a part-time student status can anticipate approximately four to five (4-5) years to complete the program. You should expect to spend approximately nine hours per week on each course, in addition to 20 hours a week onsite at a clinical setting in your area when your practicum and internships begin. Students must pass a candidacy review before being authorized to begin practicum. We encourage you to plan your life carefully to accommodate the increased investment of time and energy in your professional education.
Requirements
Total credit hours = 60
Core Courses  (13 courses @ 3 credits = 39 credits)
Practicum & Internships (4 semesters @ 3 credits = 12 credits; Practicum min.100 hrs; Internship 900 hrs)
Electives (Choose 3 courses @ 3 credits = 9 credits)
Students have the opportunity to take elective courses in the following areas: Trauma, Military Counseling, and Substance Abuse/Addiction.
Course Offerings
Antioch's CMHC Program is offered through two deliveries: Online with two-week-long intensive residencies and Weekend Low-Residency (in Keene, NH). The Weekend Low-Residency in Keene has courses that are offered 75% face to face on weekends and the balance 25% online. Summer electives are offered online and shared with online students. The Online delivery includes online courses that are both asynchronous and synchronous. Students in the Online delivery also have intensive face-to-face clinical components, either in person or virtually.
View a sample syllabus
Required Courses
PYG 6030 Group Approaches to Mental Health Counseling (3 credits)
PY 5900 Fundamentals of Therapeutic Interaction (3 credits)
PYD 6010.NE Professional Orientation & Ethics (3 credits)
PYI 5140 Assessment: Principles and Methods (3 credits)
PYI 5540 Counseling Theories: Models & Approaches (3 credits)
PY 6120 Issues in Addictions Recovery (3 credits)
PYB 5260.NE Human Development: Lifespan and Systems Perspectives (3 credits)
PYB 6060.NE Social Cultural Diversity (3 credits)
PY 6420 Foundational Theories of MFT (3 credits)
PYB 5500 Psychopathology: Diagnosis & Assessment (3 credits)
PYI 5520 Career & Lifestyle Counseling (3 credits)
PYB 5900 Research & Evaluation for Counseling & Therapy (3 credits)
PYC 6751 Crisis Counseling Interventions (3 credits)
PYP 6960A CMHC Practicum – total of 100 hours (3 credits)
PY 6990 CMHC Internship – total of 900 hours (Each semester is 3 credits; 9 credits total)
Elective Courses (3 courses are required)
PYC 6820 Special Issues with Military Families (3 credits)
PYC 6660 Family Counseling Approaches to Addictions (3 credits)
PY 5321 Counseling Approaches to Trauma, Grief, and Loss (3 credits)
PYC 6810 Military Culture & Language (3 credits)
PY 5630 Psychopharmacology (3 credits)
PY 5330 Trauma and Resiliency: Body, Mind, and Brain (3 credits)
PYI 5180 Human Sexuality and Sex Therapy (3 credits)
PYC 6800 Military Deployment Cycles (3 credits)
PYC 6260 Integrative Approaches to Addictions Counseling (3 credits)
PYC 6101 Creative Approaches for Trauma-Informed Practice (3 credits)
PY 6130 Process Addictions (3 credits)Credit total for required courses: 9 credits
Program Total: Credits 60
Practicum and Internships
Practicum introduces you to work in the field with a minimum of 100 hours of service at a clinical site, including a minimum of 40 hours working directly with clients. You learn the policy of the agency and the roles of the mental health counselor. You spend approximately 20-hours a week in practicum for at least one semester. Before beginning, practicum students must pass a candidacy review assessing their readiness to begin supervised fieldwork.
Following practicum, there are three internship semesters. These may continue at the same site as the practicum or take place at a new site. You spend approximately 20 hours a week at your clinical site and provide approximately 300 hours of service each semester, with a minimum of 120 hours of direct service to clients during each of these internship semesters. State requirements for pre-degree internship hours vary. Review your state requirements for more information.
There are many possible positions at community agencies, residential facilities, college counseling centers, and city/state social service agencies. The Clinical Director and the Practicum and Internship Coordinator will assist you in the process of matching your interests with potential sites in the community. Students are responsible for securing their own internship and for transportation to and from the site.
AUNE Office of Field Experience
Career Outlook
The Bureau of Labor Statistics projects a strong need for mental health counselors. Counseling is projected as one of the faster growing mental health professions — increasing over the next 7-10 years.
Graduates of the CMHC Program will have the knowledge, skills, and attitudes required to function as a professional clinical mental health counselor. They will be prepared for employment in a variety of settings and able to meet certification and licensure standards as mental health counselors, through education in a CACREP accredited program.
Program Objectives (also referred to as Learning Outcomes)
Ethical Practice: Students will demonstrate principles and standards of professional ethics in counseling and ethical decision-making informed by social justice.
Social And Cultural Diversity: Identify strategies needed to address institutional and social barriers that impede access, equity, well-being, and success for clients.
Human Growth and Development: Students will demonstrate knowledge of lifespan development and the capacity to integrate knowledge of developmental theory into practice.
Career Development: Identify career development strategies that incorporate a focus on social justice and advocacy.
Counseling and Helping Relationships: Demonstrate an understanding of theories of counseling and development of case conceptualizations and treatment plans that are underpinned by social justice
Group Counseling and Group Work: Integrate into their practice of MHC the awareness of the influence of social and cultural contexts on groups
Assessment and Testing: Students will demonstrate a broad understanding of different types of assessments, the selection and use of assessment tools, client assessment and diagnosis, trauma assessment, and the assessment of self-inflicted harm and danger to others.
Research and Program Evaluation: Demonstrate and apply their professional identity as a clinical mental health counselor through an individual philosophy of practice grounded in critical analysis and research and interpretation.
Clinical Mental Health Counseling Specialty Area: Clinical Mental Health Counseling students will demonstrate an understanding of foundational knowledge, demonstration of competence in clinical mental health practice, knowledge of social justice issues, and a focus on wellness.
Professional Dispositions: From admission through exit, students will demonstrate the attitudes, characteristics, and behaviors defined by the program as characteristic of exemplar counseling professionals.
Additional Info
Licensure
Graduates of the CMHC Program may apply for professional credentials recognizing their level of training and experience. Credentials may be granted by national professional boards/organizations or by state regulatory boards.
The CMHC Program recognizes the importance of licensure and certification for professional practice. The legislature in each state establishes the criteria for licensure and an appointed board determines if an individual's education and experience meet their standards. The AP Department has designed its programs to be consistent with the standards of the representative professional organizations. Individual states, many of which base their legislation on professional organization's standards, vary as to specific coursework, number of hours of supervised practice, supervisor qualification, and other required criteria. While the department offers coursework and internships that allow students to put together a licensable portfolio, it cannot guarantee licensure. Students with any negative results on a criminal background check should inquire with the state board in advance to determine if the results of their background will hinder their ability to become licensed in their state.
As graduates of a CACREP accredited program, students are eligible to obtain full certification as a National Certified Counselor (NCC) upon graduation after passing the National Counselor Exam offered in April of their final year and completing the required applications. See the NBCC website for information on this process. Graduates self-reported pass rate on the NBCC exam is 80%.
Students will learn about the steps to licensure for the state in which they plan to pursue licensure in the Professional Orientation and Ethics course, however, students are responsible for knowing the expectations of the state in which they plan to apply. Students should actively consult their state's counseling board for the most recent information about professional licensure. Faculty are available to consult with students and the following websites are helpful when navigating the licensure process:
National Board of Certified Counselors
American Counseling Association
American Mental Health Counseling Association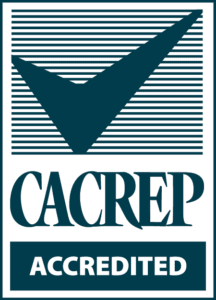 February 11 @ 6:00 pm
-
7:00 pm
EST
March 13 @ 10:00 am
-
11:00 am
EST
April 15 @ 6:00 pm
-
7:00 pm
EDT